Kindergarten Program: Comprehensive Curriculum
Our Montessori kindergarten program has a student-teacher ratio of 5-to-1. This ensures that children receive both individualized attention and plenty of one-on-one time with teachers.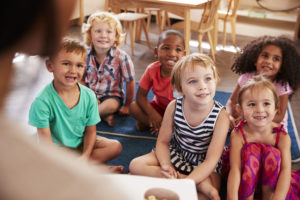 LANGUAGE ARTS
Phonics Instruction – Daily instruction using the Primary Phonics Program.
PHONOLOGICAL AWARENESS
Identifying initial consonants and vowels
Segmenting and blending phonemes
Recognizing and producing rhyme
Syllables
Identifying and blending onset of rime

ALPHABET AWARENESS
Recognizing and naming letters
Alphabetical order
Capital and lowercase letter discrimination
Consonant and vowel discrimination
CONCEPTS OF PRINT
Concept of work and sentence
Track print left to right and top to bottom
Fluency
Automaticity practice
Repeated readings
Read aloud
Choral reading
VOCABULARY and WORD ANALYSIS
Automaticity practice high frequency words
WRITING
Writing letters of alphabet
Words
PHONICS
Sound to symbol correspondence
Blending onset/rime and phonemes
Initial consonants, vowels and digraphs
Comprehension
Context clues
Think aloud and visualization
Sequencing and predicting
Following directions
Literal recall and retelling
Story structure: Beginning-middle-end
Critical thinking
STAR WORDS
Star Words (Sight Words) are worked on daily in the Montessori kindergarten program. Students learn 3 new Star Words each week. Students complete a variety of activities with the words.
HANDWRITING
Daily instruction using the Zaner-Bloser Handwriting program.
Students use letter models with arrows to show stroke sequence
Green dots show where initial strokes begin
Practice writing letters and words
JOURNAL WRITING
Students complete journal pages at least three times per week.
MATHEMATICS
Daily mathematics instructions using spiral curriculum that provides for the following mathematics skills:
read numbers to 100
write numbers to 100
count objects
add and subtract numbers to 10
add and subtract doubles to 20
sizes and numbers
identify and continue patterns
give the value of a set of pennies and dimes
recognize pennies, nickels, dime and quarters
solve simple work problems
identifying basic shapes
telling time on an analog clock
SPECIALS
Daily Specials include Geography, Spanish, Life Skills, My Body, Science, Music and Movement